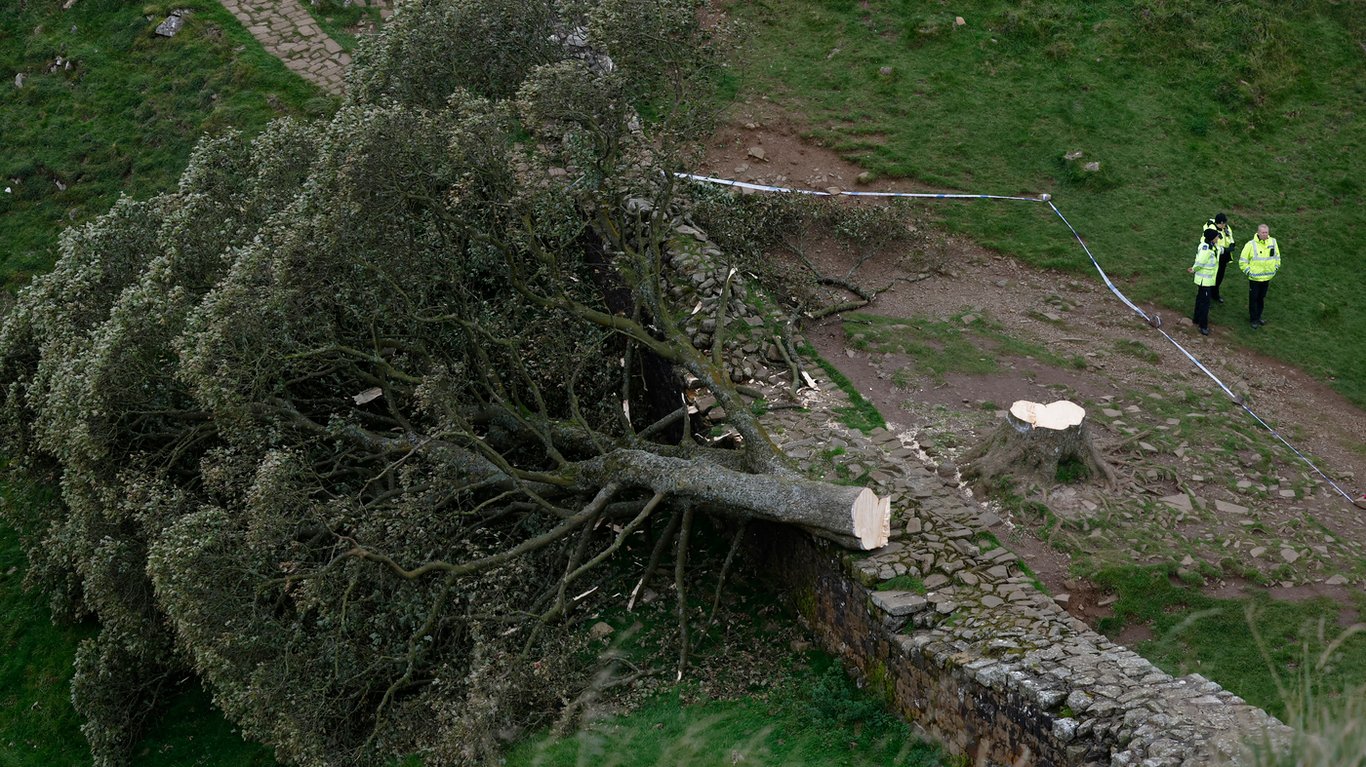 Historic Tree from Hadrian's Wall to Be Removed After Act of Vandalism
In a shocking incident of vandalism, the renowned Sycamore Gap tree trunk and crown, which has been an iconic attraction at Hadrian's Wall in England for nearly two centuries, will be removed. The tree, standing 50-feet tall, holds significant cultural and historical value, attracting countless visitors each year. However, due to the act of vandalism, authorities have deemed it necessary to carefully relocate and store the tree to ensure its preservation.
The public's reaction to this unfortunate incident has been one of utter concern and dismay. Many have expressed their sadness and disbelief over the damage done to this ancient tree. In an effort to support its preservation, suggestions and donations have poured in from concerned individuals.
To facilitate the removal process, cranes will be employed to lift the tree away from its current location. This strategy aims to safeguard the integrity of the 1,900-year-old Hadrian's Wall while ensuring the safety of the site's visitors. Unfortunately, given the tree's size, it cannot be lifted intact. Therefore, it will need to be cut again; however, authorities intend to keep the sections as large as possible for potential future use.
Authorities have confirmed that they have made two arrests in connection with the act of vandalism. The perpetrators will now face the legal consequences of their actions, which have not only caused immense damage but also left visitors and enthusiasts disheartened.
The Sycamore Gap tree held immense significance for many visitors, serving as a symbol of the area's rich history. The tree's majestic form and its presence along the famous Hadrian's Wall attracted photographers and history enthusiasts from around the world.
Despite the loss, there remains a glimmer of hope for the future. There is a possibility that new shoots may sprout from the tree's stump, offering some solace to those who mourn its removal. However, the effect will undoubtedly be different, leaving visitors to experience the site in a changed landscape.
As efforts continue to preserve the legacy of Hadrian's Wall, including the iconic Sycamore Gap tree, its removal serves as a stark reminder of the need to protect and value our historical landmarks. Let this situation be a call to action for us all to remain vigilant in safeguarding our shared heritage.