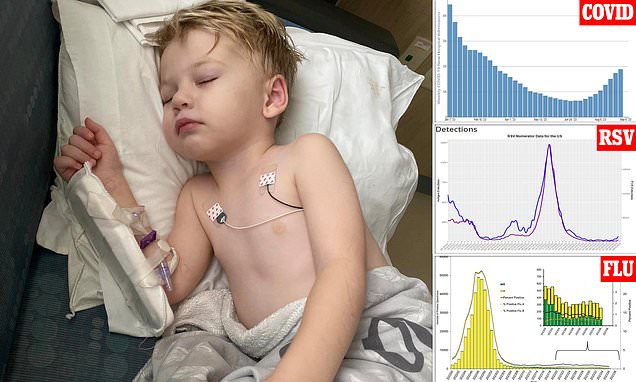 Title: Health Officials Warn of 'Tripledemic' Threat as Covid, Flu, and RSV Cases Rise
In a chilling update, health officials have alerted the public to the looming possibility of a 'tripledemic,' as Covid-19, flu, and Respiratory Syncytial Virus (RSV) cases are expected to surge this winter. The Centers for Disease Control and Prevention (CDC) has already witnessed a concerning uptick in positive Covid-19 tests and Covid-related emergency department visits.
To combat the renewed outbreaks, major pharmacy chains CVS and Walgreens have announced the availability of updated Covid booster shots starting this week. The CDC is also predicting an increase in flu and RSV activity over the fall and winter months. With vaccines now available for all three viruses, health officials are urging the public to get vaccinated to prevent overwhelming hospitals and protect vulnerable populations.
RSV, a virus primarily affecting young children, poses a significant risk. Each year, it leads to millions of doctor visits, thousands of hospitalizations, and hundreds of deaths among children under five. While most adults do not experience severe illness from RSV, it remains a cause for concern due to its potential impact on young children.
COVID-19 hospitalizations have been on the rise since late summer, albeit not as dramatically as seen during previous waves of the pandemic. In response, the CDC has approved updated vaccines specifically targeting new variants of the virus. Additionally, Americans who haven't received their Covid-19 vaccine are now eligible for the newly authorized booster shots, further bolstering efforts to control the virus's spread.
In the past, hospitals endured overwhelming numbers of tripledemic infections, leading to heightened hospitalizations and deaths. Experts believe that pandemic measures, including lockdowns and mask mandates, may have contributed to more severe flu seasons. It is important to note that while Covid-19 hospitalizations are currently at low levels compared to previous peaks, waning immunity from prior vaccinations and infections, combined with the emergence of new variants, could pose a renewed threat.
Worryingly, Covid-19 testing rates have decreased, and regular testing for flu and RSV is not as common. As a result, many cases of these respiratory illnesses may go undiagnosed, potentially leading to further transmission within communities.
In summary, health officials are cautioning the public about the possibility of a 'tripledemic' this winter and emphasizing the importance of vaccination. With the availability of updated Covid-19 booster shots and vaccines for all three viruses, individuals can take proactive measures to protect themselves and prevent overwhelming healthcare systems. Increased testing for respiratory illnesses is also vital in order to promptly identify and contain potential outbreaks.