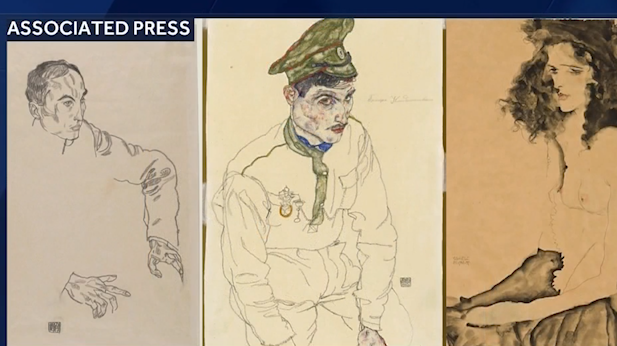 Title: Priceless Holocaust-Era Artwork Seized from Museums in Pursuit of Justice
In a significant development, a valuable drawing titled "Portrait of a Man," believed to have been stolen during the Holocaust, has been seized from the prestigious Carnegie Museum of Art. Valued at an estimated $1 million, the artwork is said to have once belonged to the notable Jewish art collector Fritz Grünbaum, who tragically perished in the Holocaust in 1941.
The Manhattan District Attorney's Office, acting on behalf of Grünbaum's family, issued a warrant for the seizure of the artwork, asserting that it rightfully belongs to the family's estate. In addition to the Carnegie Museum, two other masterpieces by Austrian Expressionist Egon Schiele are also being seized from the Art Institute of Chicago and the Allen Memorial Art Museum at Oberlin College.
All three artworks, according to the district attorney, are being classified as stolen property. This latest action underscores the widely recognized issue of looted artwork, specifically those taken from Jewish families, collectors, and artists during the Holocaust, potentially numbering in the hundreds of thousands.
Expressing the significance of these cases, the Jewish Federation of Greater Pittsburgh highlights how the seizure of these artworks represents a small yet vital step towards justice for the families affected by the Holocaust. The museums involved have asserted their commitment to fulfilling their ethical, legal, and professional obligations, vowing full cooperation with the investigation conducted by the authorities.
As of now, the three invaluable pieces will continue to be exhibited in their respective museums until they can be safely transported to the Manhattan District Attorney's Office. This development marks an important moment in rectifying the historical wrongs inflicted upon Holocaust victims and paves the way for further efforts to restore stolen art to its rightful owners.
In conclusion, the seizure of the "Portrait of a Man" drawing and the other recovered artworks constitute a vital milestone in the ongoing pursuit of justice for Holocaust survivors and their families. The controversy surrounding stolen artwork from this era resonates deeply within the art world and serves as a reminder of the immense cultural losses suffered during one of history's darkest chapters.