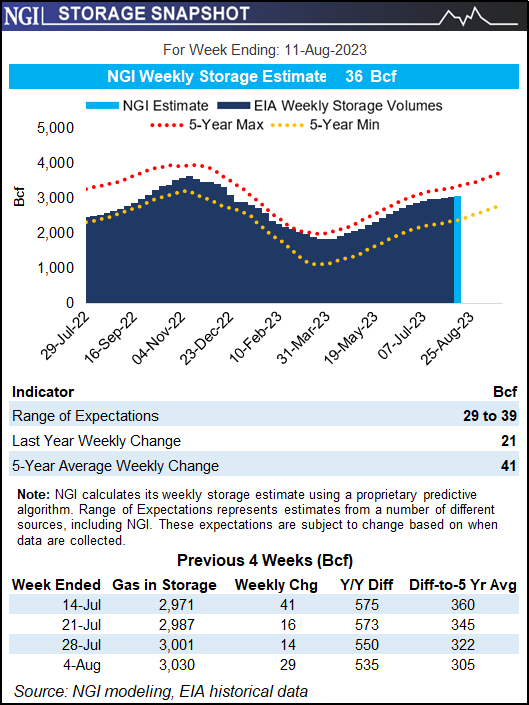 Natural gas futures bounced back from recent losses, showing positive signs for the market. The September Nymex contract experienced a rise of 4.5 cents, reaching $2.637/MMBtu, while the October contract increased by 5.0 cents, reaching $2.776. This rebound comes as a relief to traders who were concerned about the recent downward trend in natural gas prices.
One reason for the market turnaround is the anticipation surrounding the latest government inventory data. Traders are eagerly awaiting the release of the U.S. Energy Information Administration's (EIA) storage report, which is expected to show a decrease in the surplus of natural gas in Lower 48 storage. This reduction in surplus will likely contribute to the positive sentiment currently observed in the market.
Experts predict that the storage report will reveal a smaller injection into domestic storage compared to the five-year average. The Reuters survey indicates an average injection estimate of 34 Bcf, which is tighter than the five-year average build of 41 Bcf. This suggests that the amount of natural gas being added to storage will be lower than what is usually seen during this time period.
To put this in perspective, last year, during the same period, the EIA recorded a 21 Bcf injection. This clearly demonstrates the difference in natural gas storage patterns between this year and the previous one. With expectations of a smaller injection, traders are optimistic about the state of the natural gas market.
The release of the storage report is scheduled for 10:30 a.m. ET, and it is expected to provide further clarity on the current state of the natural gas market. Traders will closely analyze the report to assess the implications for future market dynamics. A decrease in the surplus of natural gas in storage could potentially contribute to an increase in prices.
Overall, the recent rebound in natural gas futures and the anticipation surrounding the upcoming storage report indicate a positive outlook for the market. As traders eagerly await the release of the report, they will carefully monitor any developments that may impact natural gas prices in the coming weeks.