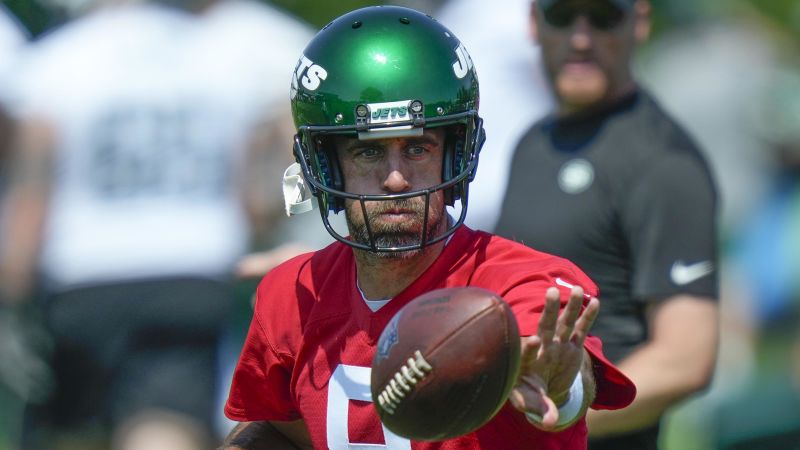 Title: Aaron Rodgers Slams Broncos Coach Sean Payton's Criticism of Nathaniel Hackett
New York Jets quarterback, Aaron Rodgers, publicly voiced his criticism of Denver Broncos head coach, Sean Payton, following Payton's recent remarks about Nathaniel Hackett, the former coach of the Jets. Payton, who assumed his position with the Broncos during the offseason, has since apologized for his comments, characterizing them as a "mistake."
In an insightful interview, Rodgers defended Hackett, openly commending him as an outstanding family man and revealing him to be his favorite coach in the NFL. Rodgers expressed his disappointment towards Payton's comments, suggesting that the Broncos coach's own insecurities may have prompted his decision to critique another coach in order to protect himself.
Hackett previously served as Rodgers' coach for three seasons with the Green Bay Packers, during which time the esteemed quarterback clinched two MVP awards. This professional history further adds weight to Rodgers' support for Hackett's abilities and character.
While Payton has proven his competence in coaching over the years, leading the New Orleans Saints to the playoffs on nine occasions and securing a Super Bowl victory in 2010, his reputation has not remained untarnished. In 2012, Payton faced suspension for the entire NFL season following the discovery of an active bounty program within his coaching staff.
Despite the ongoing controversy, all eyes are now on Thursday's Hall of Fame game, where Rodgers and the Jets will take on the Cleveland Browns. This match promises to be an exciting encounter, as fans eagerly anticipate Rodgers' performance on the field, especially in light of recent events.
As the story continues to unfold, fans, players, and coaches alike will closely observe the relationship between Rodgers and Payton. The fallout from Payton's comments has sparked widespread debate within football circles, highlighting the tension and rivalries that often accompany the competitive nature of the game.
Press Stories will continue to provide updates on this developing story, delivering the latest news on the NFL, Aaron Rodgers, and Sean Payton's coaching career. Stay tuned for further coverage and analysis as the Jets' season unfolds.